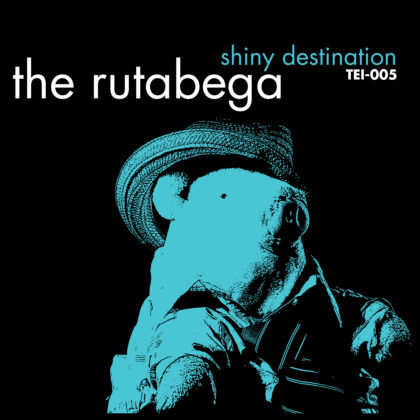 2-song 7″ vinyl, pressed on white, standard weight vinyl at 45 RPM by United Record Pressing. Hand screen-printed cover. Includes digital download card. Only 300 available.
Tracklisting:
Shiny Destination
Ladder
all songs performed by Joshua Hensley and Garth Mason
side a: Shiny Destination
recorded at Paw Mason's Shed (thank you to Jack and Priscilla)
additional vocals by Emily Trimboli-Hensley and John Hastie (Nonagon)
side b: Ladder
recorded at Bender Ballroom (thank you to Bill Finn)
bass by Michael Harold Doty (Ceiling Star)
additional recording and mixing at Plinko Productions
mastered by Justin Perkins at Mystery Room Mastering
vinyl mastering by Dave Eck at Lucky Lacquers
layout by Francisco Ramirez at Bureau of Print Research and Design
cover photo of "Albert: Pig Detective" by Mr. King
a note from the band:
The seed for Shiny Destination was planted last Winter (you know… the BAD one). It was the first sunny day we'd seen in what seemed like months. I was maybe still feeling the cold medicine from the night before. Anyway, it felt SO GOOD to feel some warmth and giddiness and YES.
We recorded most of SD at Paw Mason's Shed. There was a jackalope on the wall and Priscilla hooked us up with snacks.
Oh – our good friend John Hastie (of the mighty NONAGON) drove to South Bend from Chicago on a Thursday evening to yell with Emily on the chorus. I won't forget that. I'm getting a little teary just thinking about it…
Ladder was recorded during the Brother The Lights Don't Worksessions at the former Bender Ballroom. Ha – "sessions". There were ghosts and confetti everywhere.
We decided that Ladder didn't quite fit on Brother. Well that, and we had TOO MANY LONG SONGS and Lucky Dave said the vinyls wouldn't sound too hot if we went didn't learn how to edit. Ladder has finally found a home!
Michael Harold Doty (of South Bend's own Ceiling Star) drove out to the Land of Goshen to play the bass for Ladder. Michael is a true gentleman and Cheesecake Master. Respect.
Garth and I really love these songs and we were super excited when Triple Eye Industries offered to release them on what will be our first 7″ record. We're really grateful to TEI and everyone who had a hand in this single!
XO,
Joshua Hensley
South Bend, Indiana
January 2015
the rutabega
Shiny Destination
TEI-005
available formats: 7 inch
release date: March 10, 2015
Reviews
"

...the duo make the sort of indie-rock that feels timeless and fresh at the same time... ...It becomes the sort of indie anthem that you can feel in your bones, even if isn't mixed so as to point out "YOU SHOULD RAISE YOUR FIST HERE!" Awkward pogoing should ensue.

"

independentclauses.com
"

Their sound is geared for fans of The Wedding Present and some Brit pop akin to Pete and The Pirates but in an american decadent style that is head bopping to the point where you might knock off your ski-cap or hipster eyewear. ...The Rutebega's music is good like waffles, bacon and syrup because it is filling and tasteful.

"

Review Stalker
"

With its playfully chaotic feel, rough-around-the-edges vocal, and bouncy, toe-tapping surf rock construction, the title track reminds me of something that might have come from The Unicorns, a notion only reinforced by quirky lyrical content. Energetic and catchy, it's a breezy piece that's nearly impossible to dislike, joined by a b-side in "Ladder" that, with its laid back tempo and more emotional punch, resembles an '80s soft rock ballad. 7.5 / 10

"

Andy, ScenePointBlank.com
"

I like the excitement and energy of "Shiny Destination," but the reflective tone on "Ladder" gets me every time. Both are winners for entirely different reasons, but it's a great example of the diversity of The Rutabega's sound. Whatever way this Indiana duo goes in the future, I can't wait to hear it.

"

Kurt Morris, Razorcake